The Supra and Supra Linea, manufactured by our partner AccessBDD have an advanced ergonomic design, which has been developed in consultation with renowned consumer associations. This has enabled development of one of the most comfortable and safest inclined platform lifts on the market. The easy-to-use joystick or optional push buttons allow the lift to move up and down the stairs safely and with minimal effort for the user.
Supra is designed for use on any type of staircase: curved, straight with a change of gradient, multiple landings and spiral configurations.
Supra Linea is designed for use on a straight staircase with a constant gradient.
The units have automatic safety bars that surround the user during travel. As the lift arrives at either the top or bottom landing the leading safety bar is raised allowing the user to get on or get off the lift. This is lowered again before travel, giving a sense of security to the user.
The on-board controls make it simple to operate the Supra and Supra Linea. The ergonomic keys and buttons are shaped so that they can be operated with minimal effort while their design remains aesthetically pleasing.
The units are designed to be hardwearing and durable. They are fitted with an anti-slip safety floor covering to prevent slipping and to reduce any cosmetic damage from frequent use.
Due to their slim profile the Supra and Supra Linea take up little space on the staircase when not in use. The choice of parking options and platform sizes makes them ideal for busy buildings where space is at a premium. When the lift is not in use, it can be conveniently folded away (including arms), taking up only 370mm of space.
Both the Supra and Supra Linea are certified to European Machinery Directive 2006/42/EC. They are fitted with anti-impact and anti-shearing safety devices which bring the lift to an immediate stop if they encounter an obstruction on the staircase. An overload device can be added to conform to European standard EN 81-40.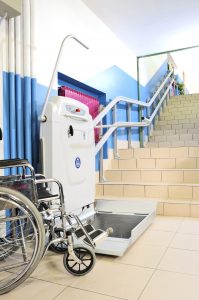 For more information on the Supra or Supra Linea, please get in touch on 01535 612163 or headoffice@a1accesslifts.co.uk and one of our experienced team will contact you to discuss further and provide a quotation.